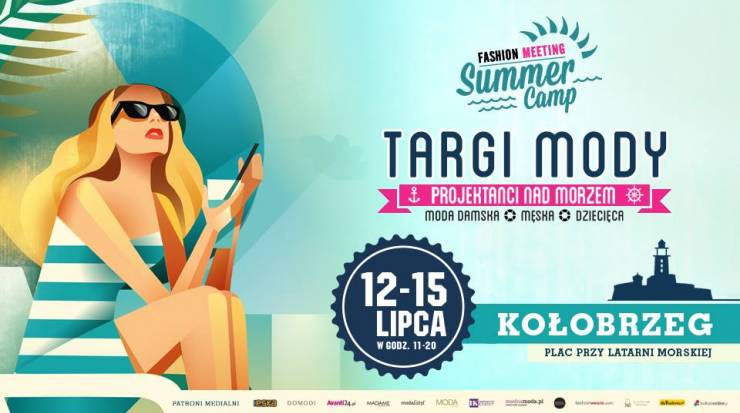 Zapraszamy zwolenników polskiej mody na niezwykłe wydarzenie, które promuje twórczość najzdolniejszych projektantów. Targi mody Fashion Meeting Summer Camp, które odbędą się już po raz drugi w Kołobrzegu, tym razem w dniach 12-15 lipca, odkryją przed nami najnowsze letnie kolekcje mody damskiej, męskiej i dziecięcej wprost z wybiegów.





Miasteczko projektantów mody rozbuduje się w samym centrum turystycznym kurortu zwanego Perłą Bałtyku. Dokładna lokalizacja targów to plac przy Latarni Morskiej (ul. Morska 1). Już w samej nazwie miejsca zawierają się warte odwiedzenia atrakcje: latarnia morska, port statków wycieczkowych i falochron. To wyjątkowe miejsce tętni życiem i emanuje klimatem jedynym w
swoim rodzaju – jednak przez targowe 4 dni stanie się ono z pewnością jeszcze bardziej emocjonujące.
Ożywcza bryza targów Fashion Meeting Summer Camp przyniesie ze sobą showroomy w eleganckich namiotach – mini królestwa mody, oferujące uczestnikom możliwość nabycia oryginalnych ubrań damskich, męskich i dziecięcych, a także wspaniałej biżuterii, toreb, galanterii skórzanej, zabawek handmade... ale uwaga – to wszystko bezpośrednio od projektantów!
Tylko na Fashion Meeting Summer Camp będzie można zakupić projekty, które aż do 12 lipca będą stanowić tajemnicę. Trzeba jednak przygotować się na całą lawinę niespodzianek. W targach weźmie bowiem udział niemal czterdzieści marek z najdalszych rejonów Polski. Warto odwiedzić Kołobrzeg i targi projektantów, którzy swoją twórczość zaprezentują tylko w tym jednym, jedynym terminie.
Cztery dni targów to nie tylko niepowtarzalna możliwość zakupu najświeższych letnich kolekcji, ale też porozmawiania z twórcami, zamówienia ubrań na miarę i poznania ich modowej filozofii.
Na letnie spotkanie z projektantami zapraszają organizatorzy oraz wyselekcjonowane marki modowe, które wezmą w nim udział, a wśród nich między innymi: Anna Drabczyńska, AnnDress,
A'YA, Bag's Philosophy, Bali Clicks Original, Bodyych, Dear John, Diverso Design, Galaxy Wear, Good Evening, Iglarki, Izzie, JuMiBag, LadyBag, Lana & co, Lemme, LuAna, Luveg, Mushi, Noza Nova, Pasjonata, PIU, Pokety, S.T.A.M.P.S , s:HEirt, Saska, Satina Folk, Seepoint, Star Dust, Sthorm, Szafa, TakaPara, Trzciński Only Linen, Wild Wood Project, Wisienkowo, Zisou.